We woke up late today, 8am which I would like to think is unlike us, but I'm sure as the cruise progresses it will become the norm.The view from the stateroom window was far more industrial than yesterday's as I could see nothing other than cranes and shipping containers. I dithered around until Jane said it was 09:15 and if I didn't get a move on we'd miss breakfast. Suitably focused we were in the PG restaurant well before it closed and ordered up our breakfast while we decided what to do. We hadn't any trips booked as I didn't fancy a 2 hour trek out to Florence by coach, but we decided to get the shuttle into Livorno and possibly get a train from there to Pisa which is only 15 minutes away.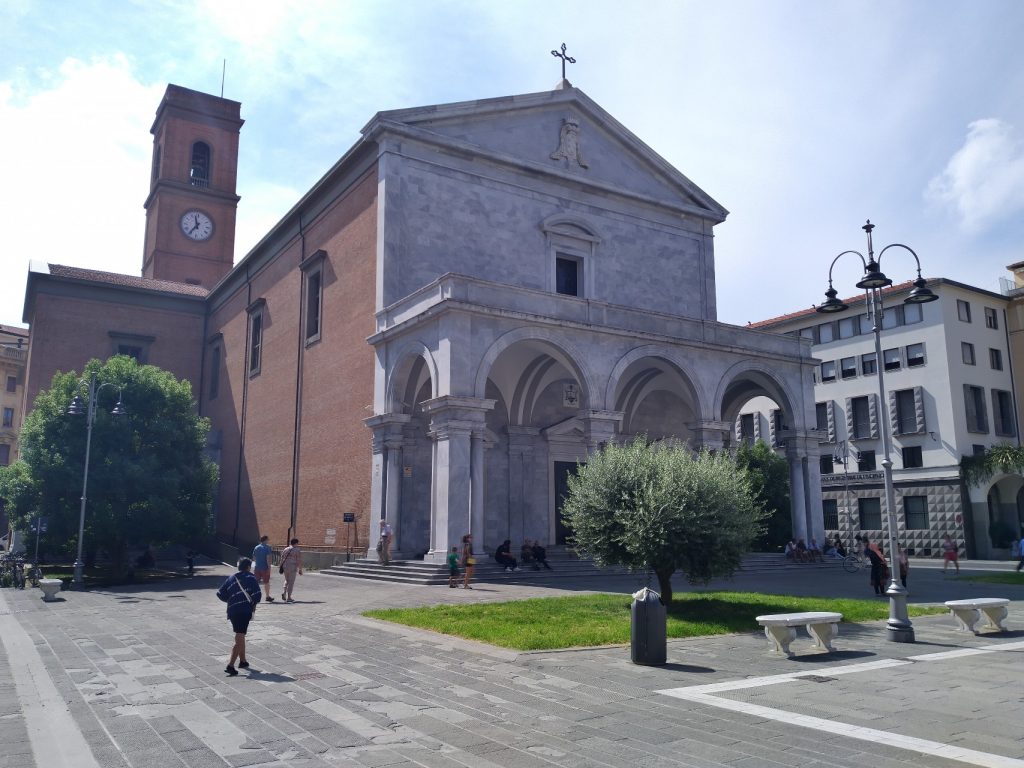 Getting the shuttle was a right palaver, we had to queue for a ticket to board, we then had to wait for the coach to arrive, and then it was an age getting into the centre of the town because of traffic. Livorno is surprisingly pretty with a lovely Cathedral and quirky Synagogue. We ended up in the Central Market which was lovely and cool. While there we stopped for a coffee and a slice of cake in one of the many little cafes. Two Cappuccino and Nutella pastry were Euro 3.70 which felt like a bit of a steal, especially since they were so nice.
We took a circuitous route back to the coach pick up point to get the shuttle back to the ship for lunch and a little light sunbathing. We must have just missed one as it took an age for the shuttle to arrive. The journey back seemed much quicker mainly because there wasn't any traffic.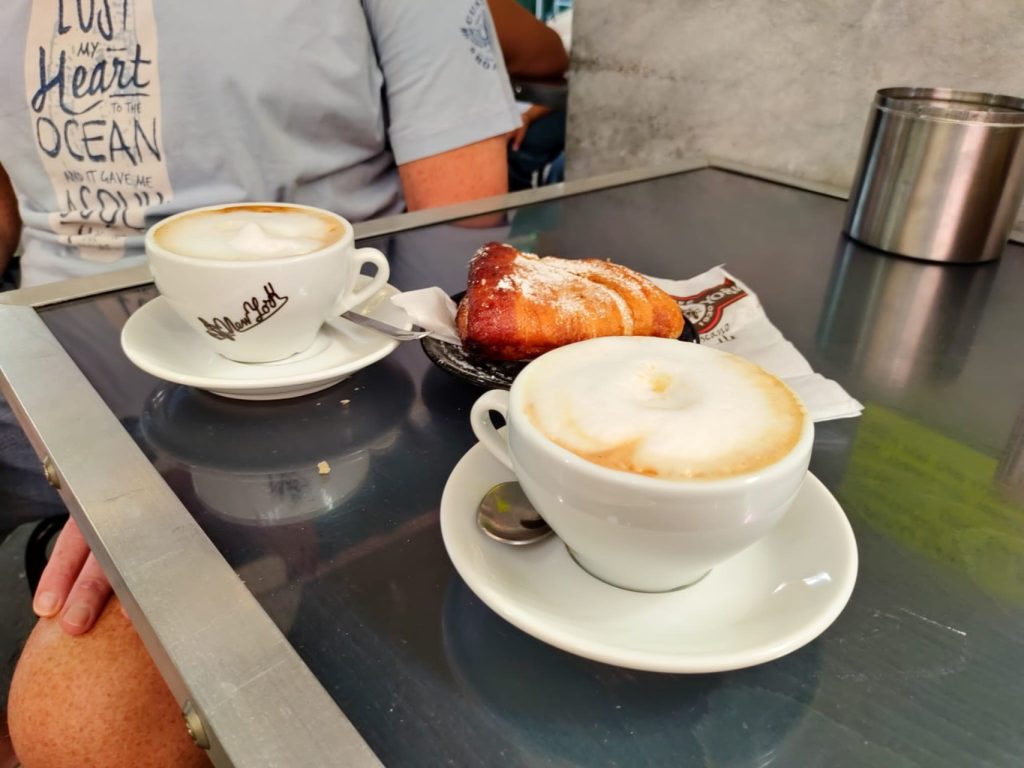 We weren't very hungry so I decided to skip the appetiser and just have the sandwich of the day. Jane had a cheesy Jalapeno starter and the pumpkin pasta. Anuraj decided that I should have a starter and brought me the same as Jane, have I mentioned that he's a feeder? I'm glad he did as it was excellent, if more than a little fiery. I ended up not eating all of my sarnie though and passed on a dessert.
After lunch I headed upstairs to bag a couple of beds while Jane went to get changed into her cozzie and get me my book and earbuds. I blagged the first two beds under the shady part of the deck which meant I could lie in the shade and Jane could drag her bed out into full sun.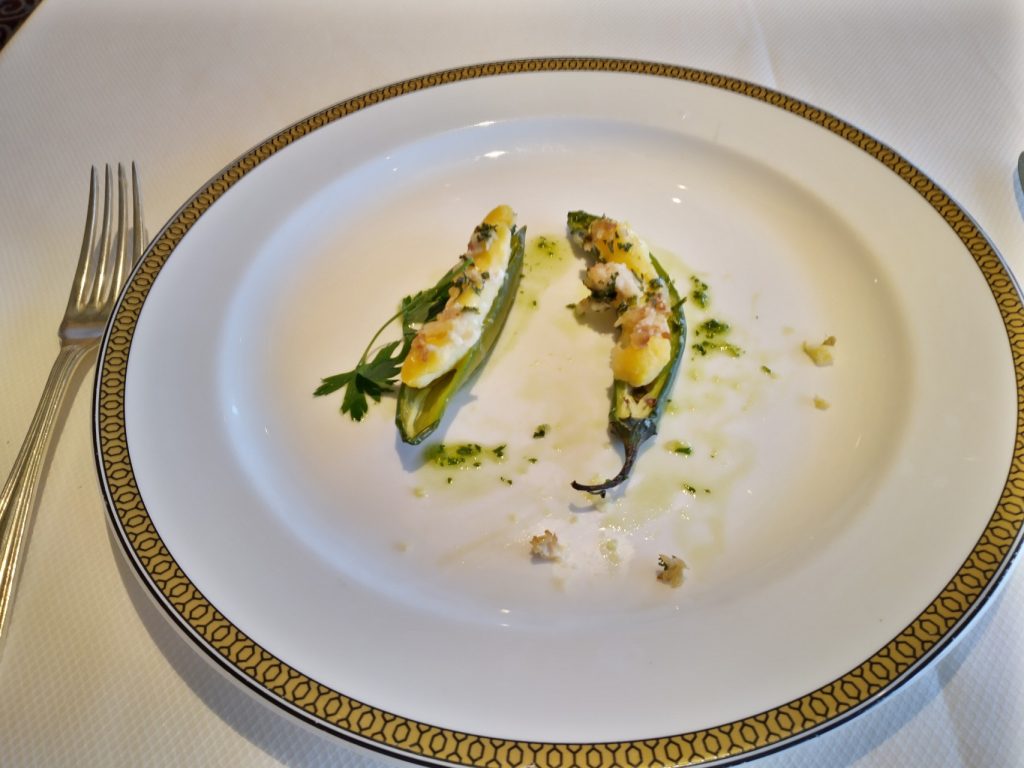 The sky started to look a little angry and with the promise of thunderstorms on the BBC weather site and Jane getting too hot we decided to head down into the Grills lounge for a cool drink, I had a nice cool Doombar and Jane, with a nod to our location had a nice cool Peroni. Five oclock came and it was time to have another drink. Jane had a Moscow Mule delux and I had a Rock Shandy but with ginger beer rather than lemonade – essentially a vodkaless Moscow Mule Very refreshing.
Suitability refreshed it was time for a shower and to get ready for dinner. I was looking forward to tonight's offering of tandoori lamb chops. Jane can't be doing with her lamb to be messed about with so was pleased to hear that she could have the rack of lamb off the A la Carte menu for one, she was less happy to find out it was half a rack instead of a full one. She did get four cutlets in her half, so was happy again. I tried the tempura prawns for starter, they were just as delicious as the first time but the tempura was now light and crispy, well done chef. My tandoori lamb was excellent with just the right amount of accompaniments to flavour the rice. Double well done chef.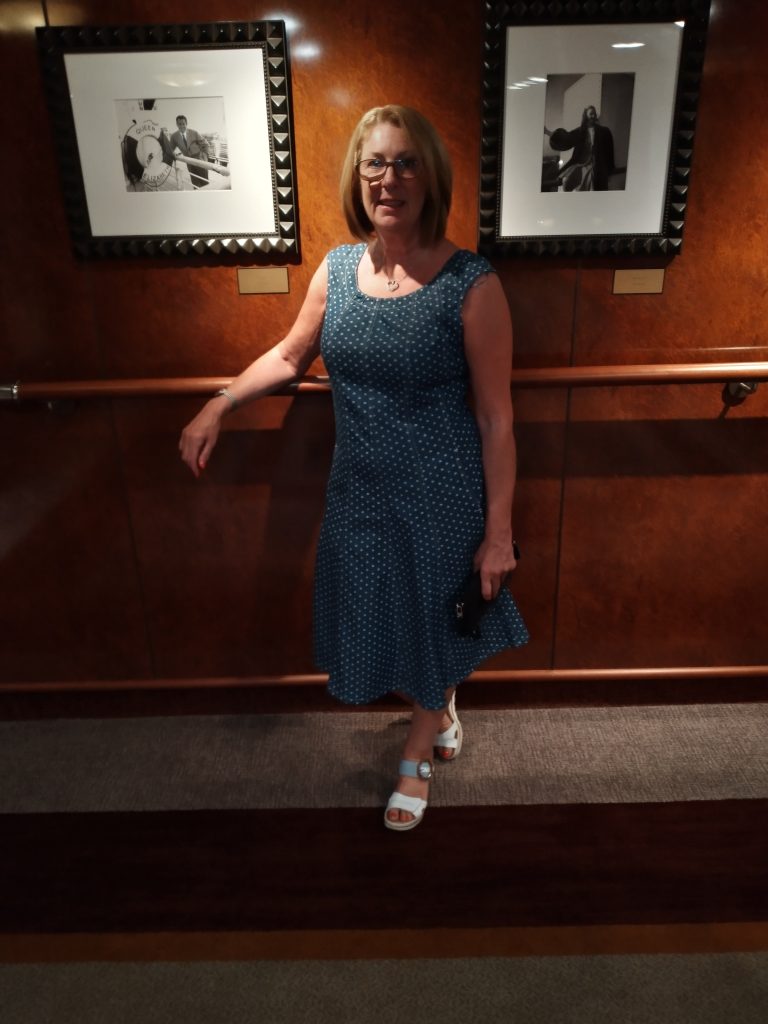 After dinner we again headed to the Garden Lounge where we discovered the truth behind the folk duo performing there. Although they are from Tipperary, the name of the duo is the Newfoundland Duo, it's their title rather than their origin. Apparently a lot of Newfoundlandiers originate from Wexford hence the associated name. Jane wanted to see the headline act in the Royal Court Theatre, the FlyRites. She dragged me along to see them on our last cruise as they were "brilliant" I was not convinced so avoided going with her this time. It turns out their first set is brilliant as she really enjoyed them again, especially Mr Bojangles.