Narvik – Friday 25th March
My hip has been playing up for a while with a bit more pain than I have had recently so I had decided not to leave this ship today, we hadn't had any excursions booked so it was going to be a quiet day on board for us.
We went down for breakfast first thing before heading off to the Grills Lounge for a nice coffee. While I was sat there sipping my flat white Jane commented that I was sniffing a bit and I had noticed that I had a bit of a sore throat, so it was decided that we'd head back to the room where we had some LFT test kits and I would take a covid test. 20 minutes later and I had two bright lines at C & T showing I was Covid positive. From then on it was action stations, first calling 911 to inform the medical team. They dispatched a blue suited medic to carry out tests on both Jane and myself. Mine came back positive as expected whereas Jane was negative. This left us with two options Both of us go into quarantine or I go into quarantine and Jane into Isolation. I'm not sure what isolation would involve apart from not being cooped up with me and it's only 5 days until we return to Southampton so we decided to get locked up together.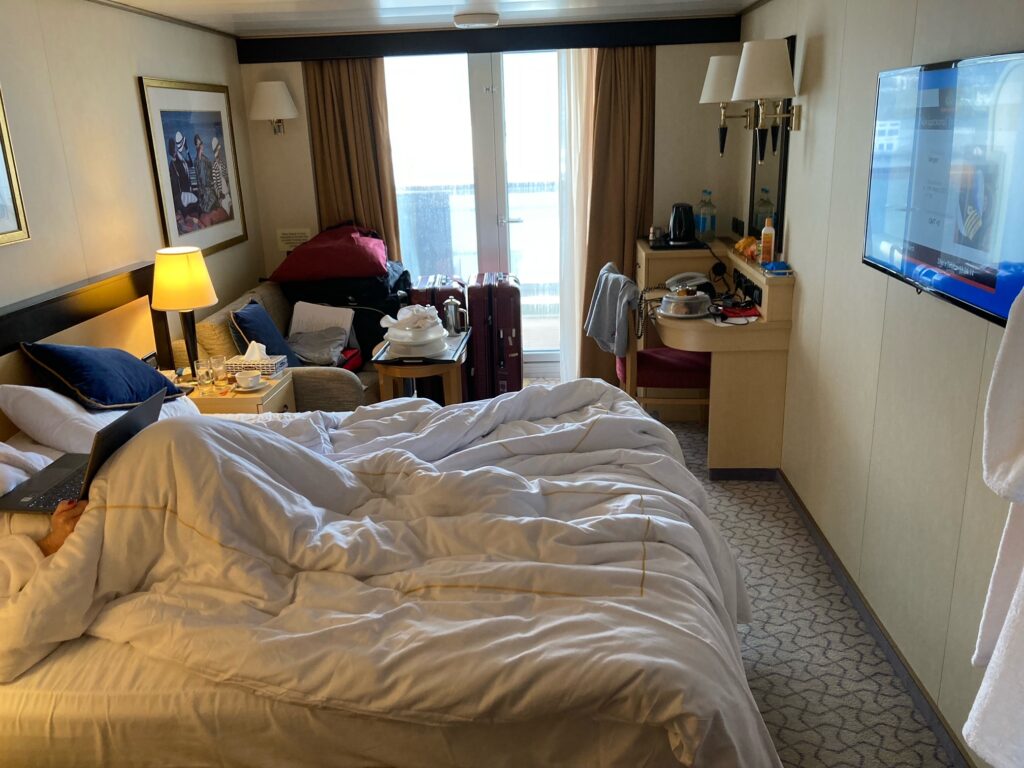 We packed up all our gear, donned masks and were escorted into the crew elevator and down to deck 6 where we were shown to room 6138, a standard balcony room in the quarantine area. Apart from the disappointment of going from a Grills Suite to a standard room we found that the room hadn't been prepared to receive guests and not to same configuration as we had. There weren't enough pillows, no bottled water and missing tea making facilities. The bed was set up as a double, where we'd had it set up as a twin to facilitate my dodgy hip.
I expressed my disappointment to the purser's office that there weren't any Grills quarantine rooms so we'd have to make do. The first half day was all a bit moany. Every time we went to do something we found bits missing, towels in the bathroom, dressing gowns, slippers, menus, all the things that you need when confined. That involved a lot of phoning around with us finding the purser's office to be less than helpful, luckily as Grills passengers we have the dedicated Grills Concierge, Cynthia, who has been superb, always helpful and has been able to handle all our requests with zero fuss.
It was time now to dig in for the next five days and try not to kill each other, time will tell………….