Final Sea Day – Friday 26th November
That was a lumpy old night. The wind had really got up and coupled with quite a heavy swell we were rocking back and forth all night, accompanied by crashes and the ship's bow ploughed into the heavy seas. 5001 is a lovely suite, but not one for travellers that are sensitive to noise. Jane never made breakfast, but I popped up to Lido to grab her some Danishes to keep her strength up. Me I headed up to the PG restaurant for a proper breakfast before today's lectures.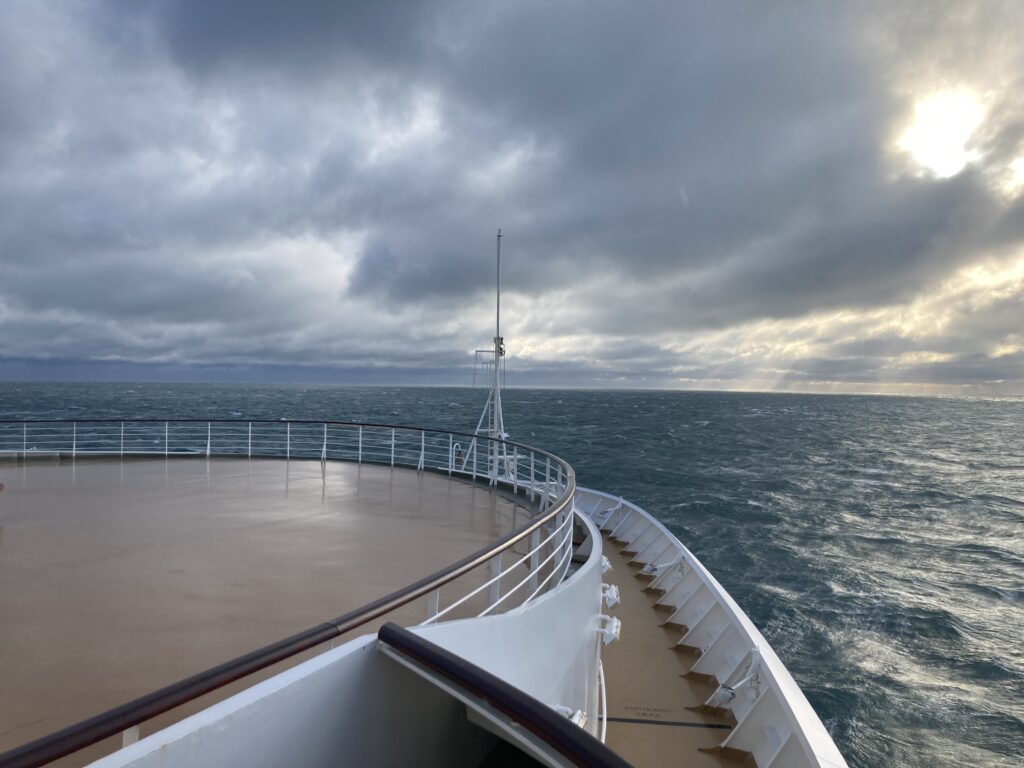 It was the final round of lectures, first up was Dave Mallinder speaking about Frank Sinatra. The second lecture was Cathy O'Dowd who talked about her attempt to conquer the last unclimbed ridge in the Himalayas, Manga Parbat, Pakistan's infamous "Killer Mountain" She certainly has a flair for the dramatic, and the talk was very entertaining.
Lastly came Dr Sheona Urquhart, who went off on a tangent to her usual Cosmology lectures to talk about a life without satellites and on pre-industrial navigation.
I managed to leave my Kindle in the theatre and by the time I had realised the doors were locked for rehearsal. After a bit of a faff and with help from the Purser's desk I retreived it in time for lunch in the PG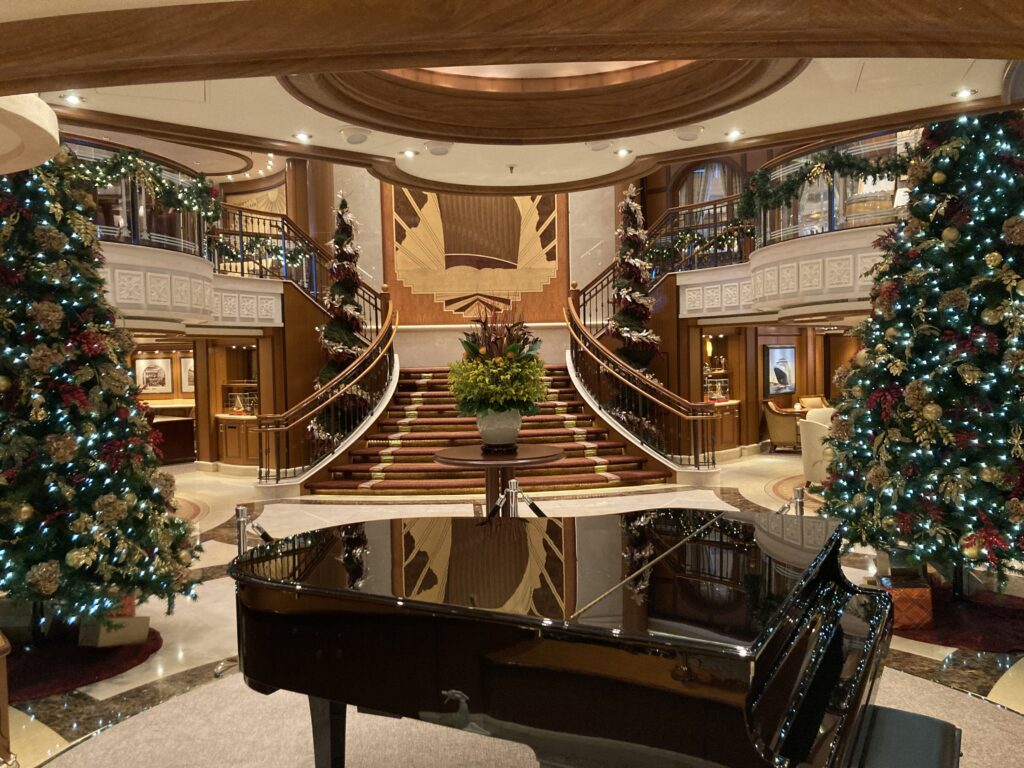 The weather had taken hold with the outside areas all closed off with red barriers in place at all of the doors to the deck. We decided to sit in the Grills Lounge to chill for a while, but the lumpy seas were making Jane feel unwell so we headed down to the stateroom where Jane could lie down. We missed the 4 O'clock quiz, a combination of sea sickness and last night's lack of sleep catching up on us.
We decided that since both this and Commodore O'clock were wash outs, we should make the effort and have pre prandial drinks in the Grills Lounge. This allowed Jane to have a Ginger Cosmopolitan, as it would settle her stomach. I rather boringly had my usual.
The menu wasn't very inspiring for a last night, so I had the Crab Scotch Egg from the A La Carte menu paired with fillet steak. Jane had soup and had a punt on Coconut and Pineapple encrusted Prawns, a good choice apparently.
We got some more news of tomorrow's arrival, breakfast will be available 8 to 9:30 and the Grills Lounge will be open from 10am. Then it was back to the room to pack up dinner clothes and put the cases out for collection.