First Sea Day – 16th November
We woke to grey skys and a slight swell as we headed across the top of Brittany. My alarm had woken me at 06:45 and I climbed into my running gear to head off to the gym, oh dear! Lockdown hasn't been kind to me and I looked like "Little Britain's Matt Lucas as the Only Gay in the Village" I should have tried it on before packing it. I'll try again tomorrow with a cotton t-shirt which won't be ideal, but I really need to make the effort.
Jane stayed in bed as she's booked breakfast in the room, apparently the choice is better, in PG, but I never looked. I headed up to the PG restaurant as I wanted to try their breakfast. The have a more extensive menu again with item like devilled kidneys and more egg choices than you can shake a stick at. Needless to say I had prunes and figs followed by kippers and poached eggs.
We have a table of eight sat by us at dinner, we like a large table for dinner as we get to meet interesting people and I gave new blood to bore with my war stories. I had a chat with one of the diners there and they are all travelling independently and have a loose arrangement to meet at 19:30 so that would suit us. It be be this is the case as well with larger tables in the new world order in Britannia – I shall have to ask.
The first of the insights lectures on the cruise is Dave Mallinder and his series on the Singers of the Great American Songbook. Today, Nat King Cole. Things have changed from our August cruise on QE, we still have to wear masks in the theatre, but the seat restrictions have been removed and lectures are now 15 minutes apart rather than the 30 they were previously.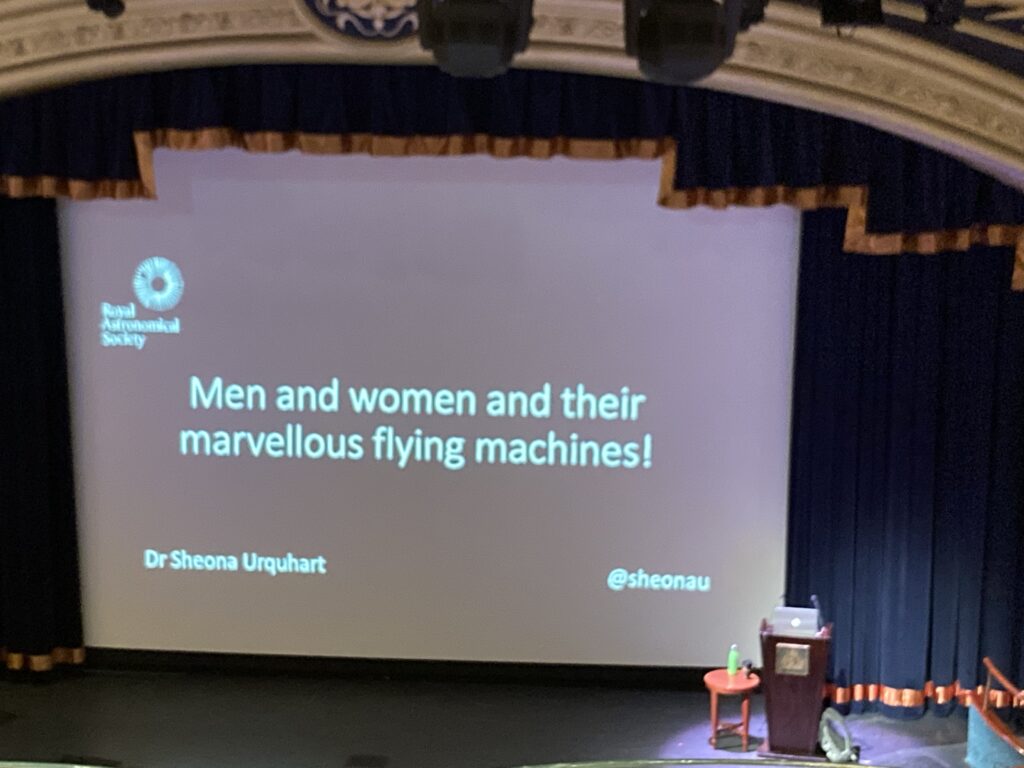 The next lecture was Dr Sheona Urquhart from the Royal Astronomical Society all about early space flight pioneers. Unlike David Mallinder, the veritable Doctor is a new speaker to me.
After the lectures I headed back to the stateroom to see how Jane was? There wasn't a lot of swell but what there was had set off her motion sickness and she was feeling a little under the weather. We decided to get some fresh air, so had a walk around the Promenade Deck, three laps to the mile, and a mile later feeling refreshed in the breeze headed up to the PG for lunch. I had salt & pepper squid followed by a smoked salmon bagel, Jane had soup and a veggie shepherds pie. All were excellent.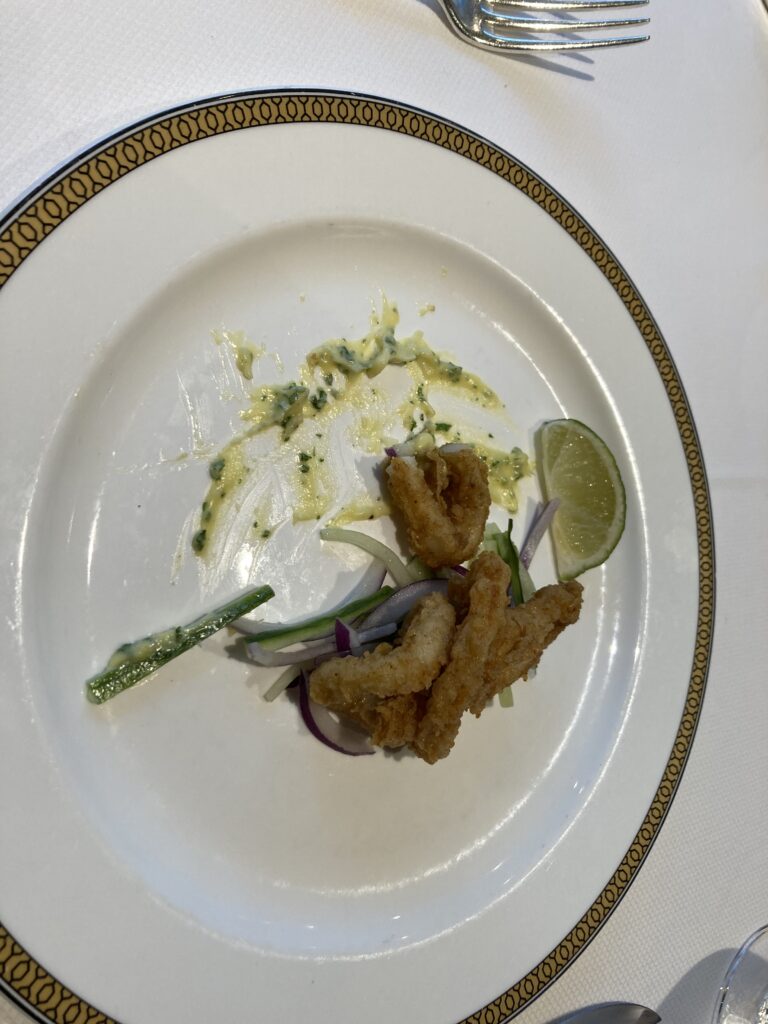 We had a relaxed post prandial half hour in the Grills lounge we took a stroll back to our room to see if we could grab the Steward for a couple of jobs, nothing major, but we've all decaf coffee for the Illy machine, so that needs to go, and Jane needs a different pillow.
No sign of the Steward, so back up to the Garden Room for the Afternoon Trivia. We paired up with a very nice couple from the next table to us at dinner and got a respectable 16/20. After that it was Commodore O'clock and I need to carry on my gluten-free experiment by drinking Old Speckled Hen again tonight. Jane started on an expresso martini which she found a bit bitter, wrong choice for her rather than a bad drink.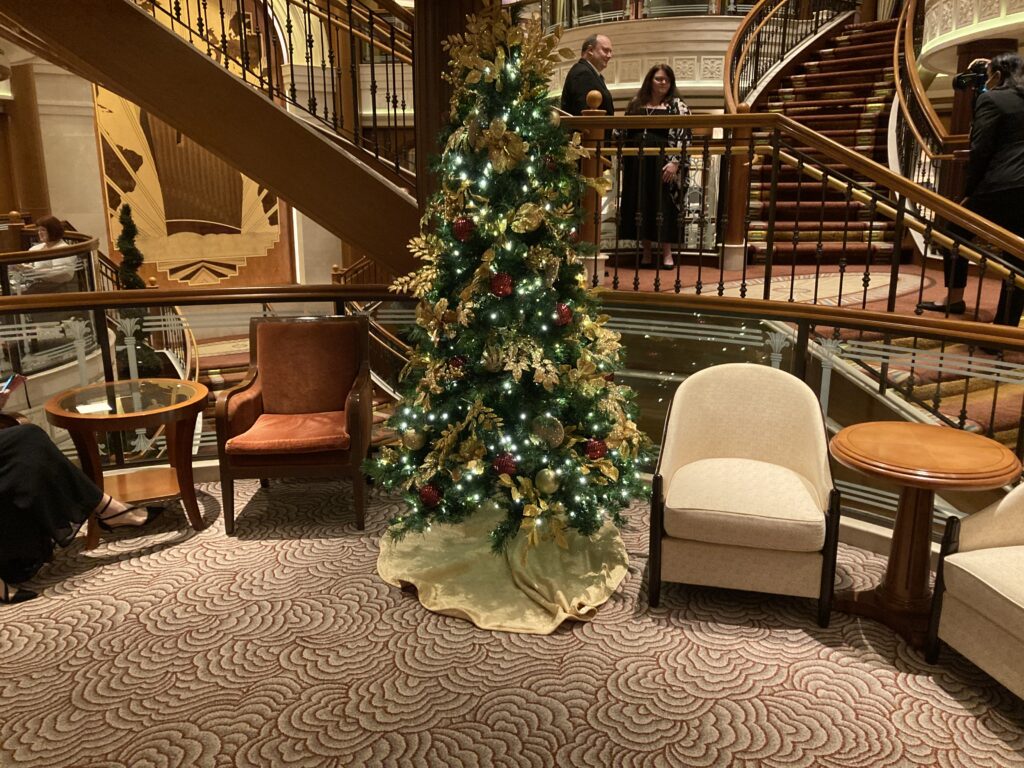 It's Gala night tonight with a Black and White theme. I really wish I'd tried on more of my outfits before coming on the cruise. As I've already intimated lockdown hasn't been kind to my clothes as most of them seem to have shrunk through a lack of wearing! I squeezed myself into my Tux trousers and dress shirt for tonight's dinner, at least my bow tie still fits OK. I don't think they will see the light of day again on this cruise.
Dinner was excellent, a complimentary glass of fizz on arrival to compensate for the lack of a welcome party, followed by an amuse bouche of chilled leek and potato soup, followed by chicken terrine, chicken ballottine and cherry pancakes all washed down with a nice Reisling