Final Sea Day – On our way home.
Thursday 26th Aug
I was "Billy no mates" at breakfast again, Jane needed a lie in after staying up for the show last night.  As it was our last sea day I'd decided to indulge in the Signature breakfast, I've had healthier breakfasts all week, poached egg and smoked haddock, so I fancied a nice fry-up and it was lovely.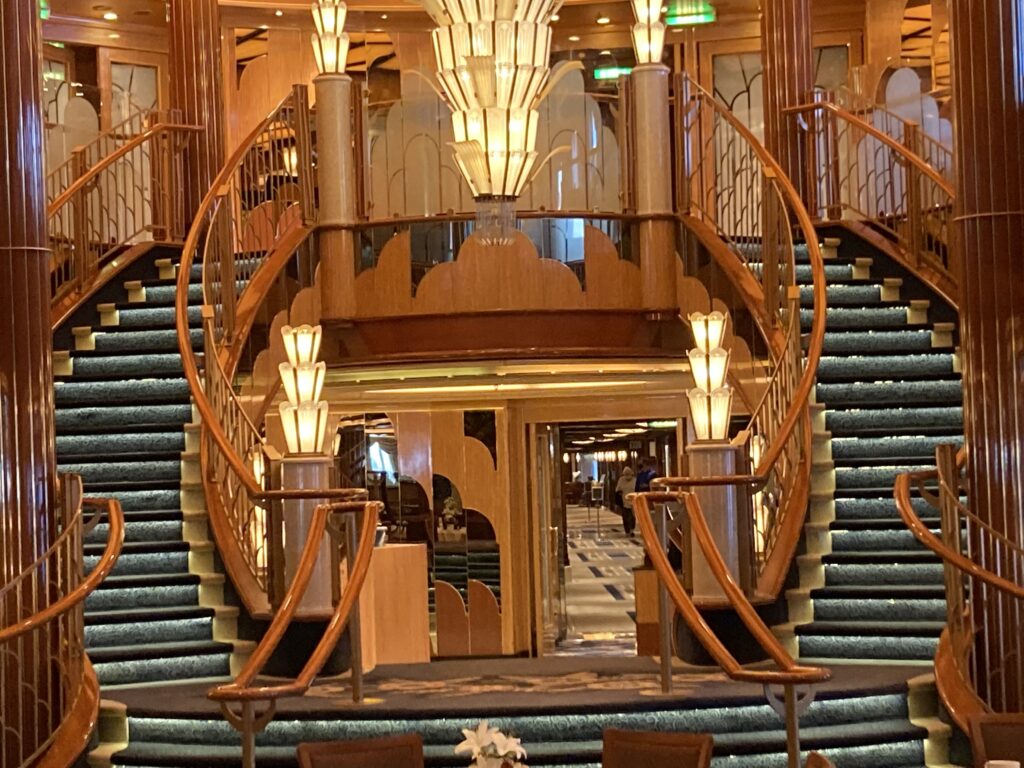 After that it was time for the morning's round of lectures to start. First up was Philip Price talking about the weirdest of the creatures found in the sea. He's an excellent speaker, full of enthusiasm for his subject he was followed by Professor Turi King and the second of her lectures on DNA. This was very well attended, not surprising really given she was the headline speaker. She did her best to make the audience cry, with her tales of family reunion based on her family tracing program on the Beeb.
The sun is out again today, unsurprisingly on the starboard side of the ship, so between lectures I went out onto deck 3 and grabbed a steamer to relax, catch some rays and read a little more of my book. I've just finished an enjoyable load of Rabbity nonsense, The Constant Rabbit by Jasper Fforde an now continuing with the second of a Joe Abercrombie trilogy, The Trouble with Peace.
The final lecture of the cruise is Helen Doe's talk on cross channel smuggling.
After this it was time to meet Jane for Lunch in the MDR, she'd been wishing for Spaghetti Carbonara all week and today was the day. We also had a half bottle of Chablis left over from the previous night's dinner which went down very well.
It was time for the dreaded packing after lunch and with that out of the way we headed up to the Garden Lounge for trivia, we didn't win, and then Commodore O'clock. Jane had a Brandy Alexander again while I had a Doombar.
The final dinner was a disappointment, our first meal where the food wasn't outstanding. It started badly, my chicken livers were overcooked and dry. I'd asked for my main of lamb rack to be served medium, now I like lamb pink, but this was still bleating, I still ate it though and it was delicious . Bess ordered a medium sirloin which she had to send back to have it cooked some more as it was very rare.
Jane and the oldies went off to watch the show, The Flyrites, who apparently were wonderful. I set my alarm for silly o'clock and went to sleep.