Queen Elizabeth Sun Voyage 20th – 27th August 2021
It's all starting again, last week Queen Elizabeth set off on her first post-covid cruise, now it's nearly our time. It's two days before boarding and getting very exciting. All paperwork has now been completed and printed off. All the packing has been mostly done, just waiting for a couple of items to be returned from the cleaners. Our departure is slightly different this year, normally we'd head off to the New Forest to stay the night at Jane's Dad's place and get dropped off by him at the terminal in the morning. This year John and Bess are travelling with us, so instead of trying to squeeze the four of us, with luggage in a single car we have decided to travel separately and use CPS to park the cars. This was a cheaper option than getting cabs as this cruise is only seven nights. It also has the added advantage that if, in the unlikely event that any of us test positive for Covid on embarkation then the holiday is not spoiled for all.
The documentation for these first Cunard cruises has changed slightly from previous trips, the checklist is slightly different from normal. The major changes are:
Ensure you have appropriate travel insurance cover for the duration of your voyage
The documentation emphasises the following points need to be checked and to take your policy with proof of this to be checked on boarding
When travelling with us, your insurance must include medical cover of £2 million minimum and cover for emergency evacuations and medical expenses related to Covid-19.
Ensure your policy includes cover for repatriation, cancellation and curtailment
Ensure you have proof of your Covid-19 vaccination Printed in case of connectivity issues at the terminal
Read our latest health protocols information
Complete online check-in
This involves clicking on a Check-in link in MyCunard and entering your details again. Once in there are 3 sections to complete.
Check passport details again
Enter a payment card for spending on board
Upload a passport style photograph – These are not mandatory as they will take a photograph at the terminal
Once the Passport checks and Payment card are completed you can download your boarding pass
Plan your travel to Southampton to arrive at the specified time on your e-ticket
Three days prior to embarking, complete your Health Declaration on My Cunard
This again is a link on the MyCunard site, accessed via the Before You Sail tab and very similar to previous health questionnaires just Covid specific this time. Once completed you can print it off and you will be emailed a copy of the Health Declaration saying you are now cleared to travel.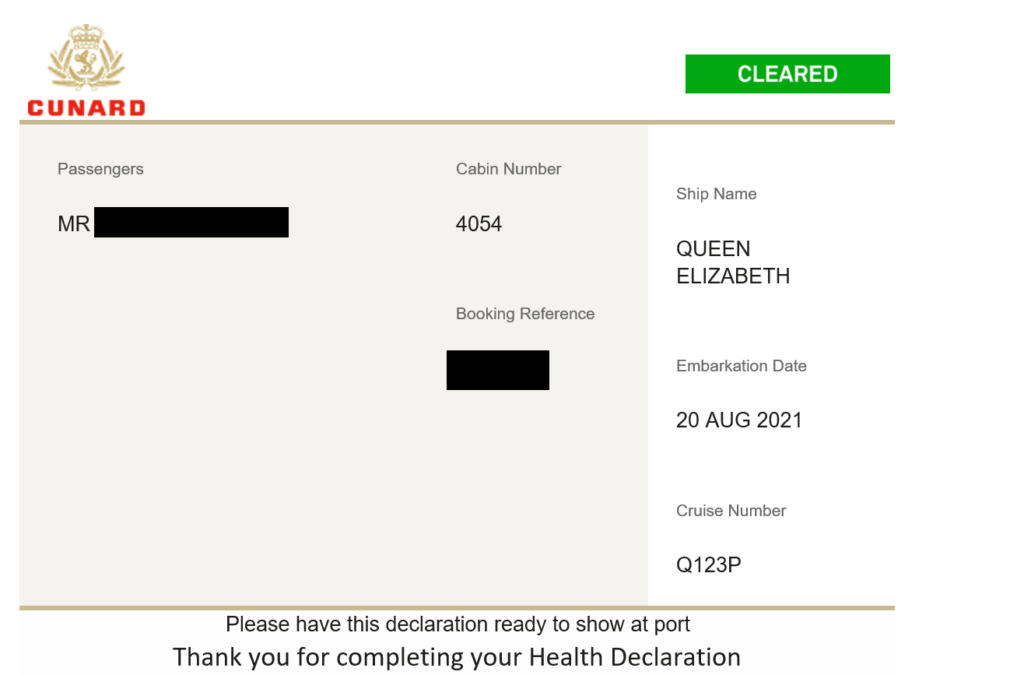 .