About Us
---
We are Jim and Jane and I've lost count how many times we've cruised with Cunard, it's obviously not enough as we are still only Platinum. Our latest cruise is a Northern Lights cruise to the north of Norway on Elizabeth. This was a last minute change from an Iberian cruise that we missed because I was laid up with a shattered pelvis. 
---
Our First Cunard Cruise – QM2 Southampton to Barcelona and back. This is Jane in Vigo, Spain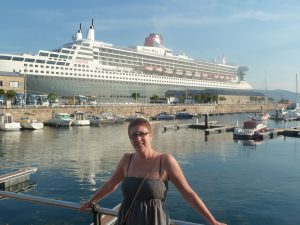 This was the cruise that started it all, and we have loved every minute of it since then.
---
Queen Victoria (affectionately known in our house as "The Vicky")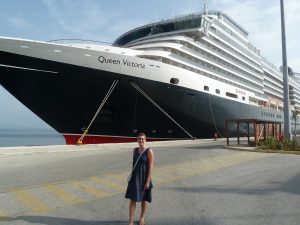 This cruise was 17 nights from Southampton to Venice and back in 2014,  this was at the same time of year as this year's cruise and we hope to be as lucky with the weather on this cruise as we were then.