Barcelona and Embarkation – Day 1
This is our first fly-cruise, and because we had a lot, and I mean a lot of bags, we had decided to stay in a hotel at Gatwick, dropping our bags off the night before which would allow a fuss free journey to the plane via security in the morning. It all went well until I took my phone out at reception only to find I didn't have it on me. Find my iphone dot com said it was back home, so at least I don't have the worry that it's gone.
After a terrible night's sleep, me not the hotel, we strolled through to departures and on to our gate. We were only slightly delayed leaving Gatwick and arrived in Barcelona 10 minutes late. Barcelona airport was excellent, quick through passport control and quick through the baggage hall where I removed the flight labels and affixed the pre-printed cruise labels. We had a car booked to take us to terminal D where Queen Elizabeth was berthed. The bag drop-off was painless, even if it took a few trips from cab to conveyor belt, then through security to be x-rayed, a quick photo and passport check and we boarded the ship – all very efficient.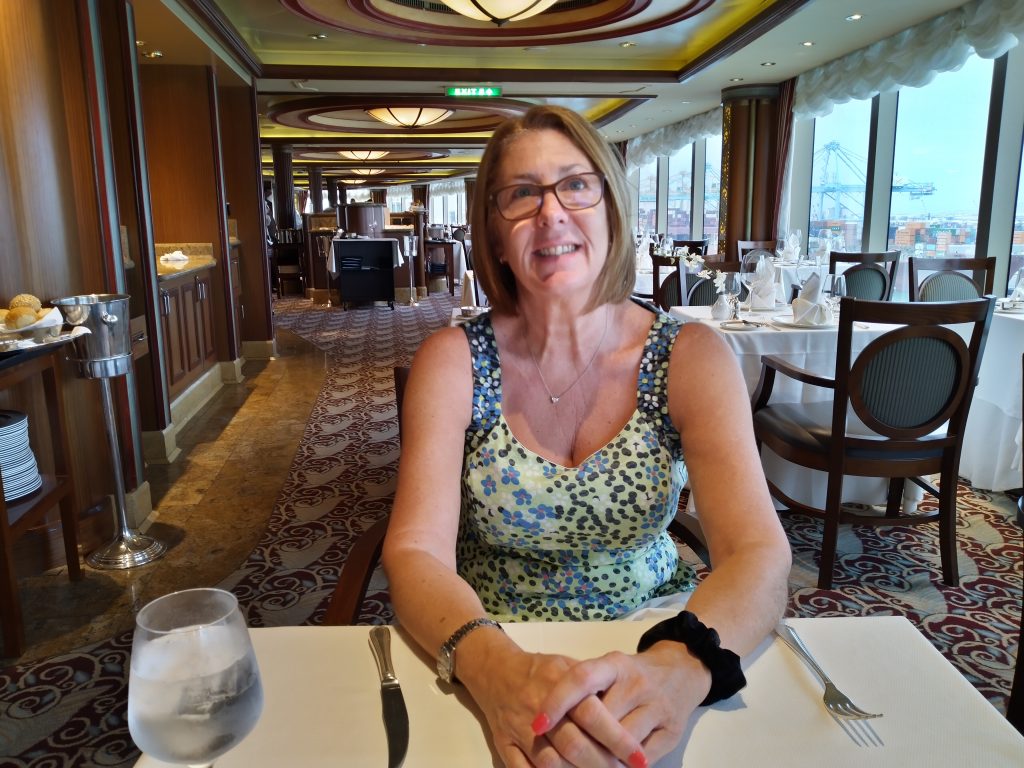 Our cabin is on deck 4, 4089, so it was easier to climb the stairs rather than wait for a lift. There are no restrictions on passengers at the moment. so there's no requirement for us to wear masks, although the staff all are and there doesn't seem to be a limit to numbers in the lifts. Once we'd been to our stateroom it was time to head to muster station B and get our cards scanned, we don't want to end up on the naughty list. That out the way we headed for lunch in the PG dining room, mainly to see if we could wangle a window seat for the cruise. Christian the maitre'd said he'd see what he could do but in the meantime we were ushered to our set table near the back of the dining room, the last of a set of three two tops. Jane was actually quite pleased with this as the views from our table were very good. So on the way out after a light lunch of calves liver and lemon tart we told the maitre'd we were happy where we were.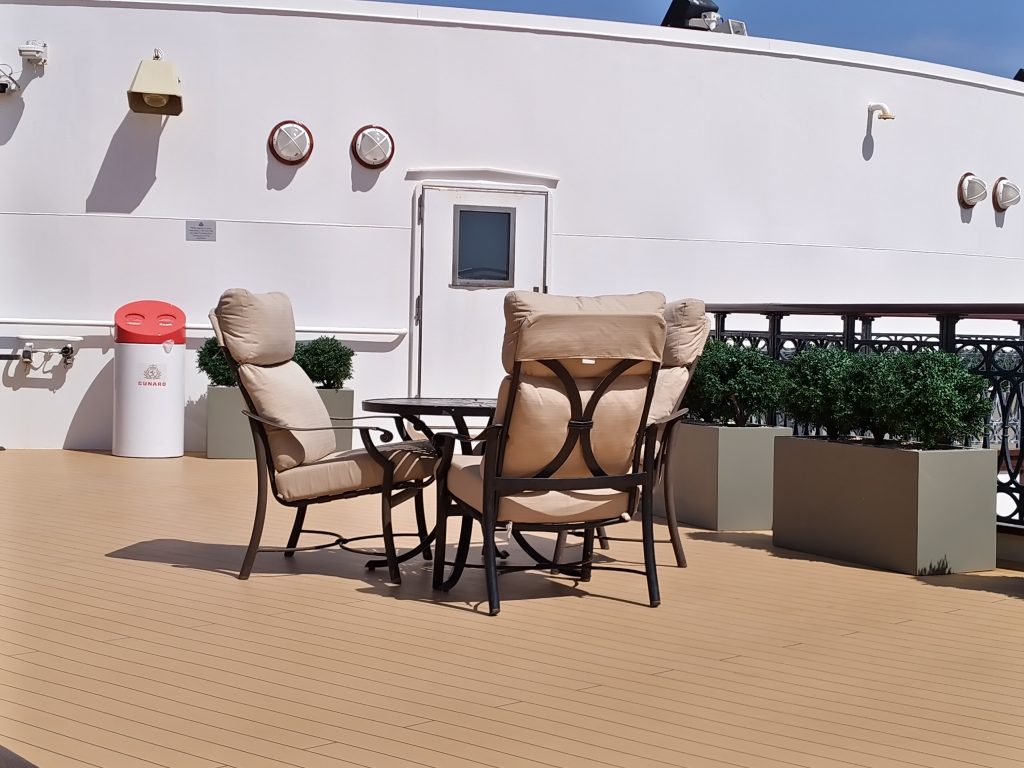 After lunch it was unpacking time, get more hangers time and memory foam pillow time. All that out of the way we headed back up to the Grills deck for a bit of sunbathing for Jane and a snooze for me as apparently I'm overtired and grumpy.
Commodore O'clock came along too quickly, and we missed the quiz at 16:00 in the Garden room. Jane's not too happy with the standard of cocktails in the Commodore Club today, she's tried a Cosmopolitan and a Margarita, both lacking in citrus apparently. I have no comparable complaints about the Doombar. If things don't improve we'll be taking our custom to the Grills lounge where one of our past favourite Commodore staff has been relocated. …… she says.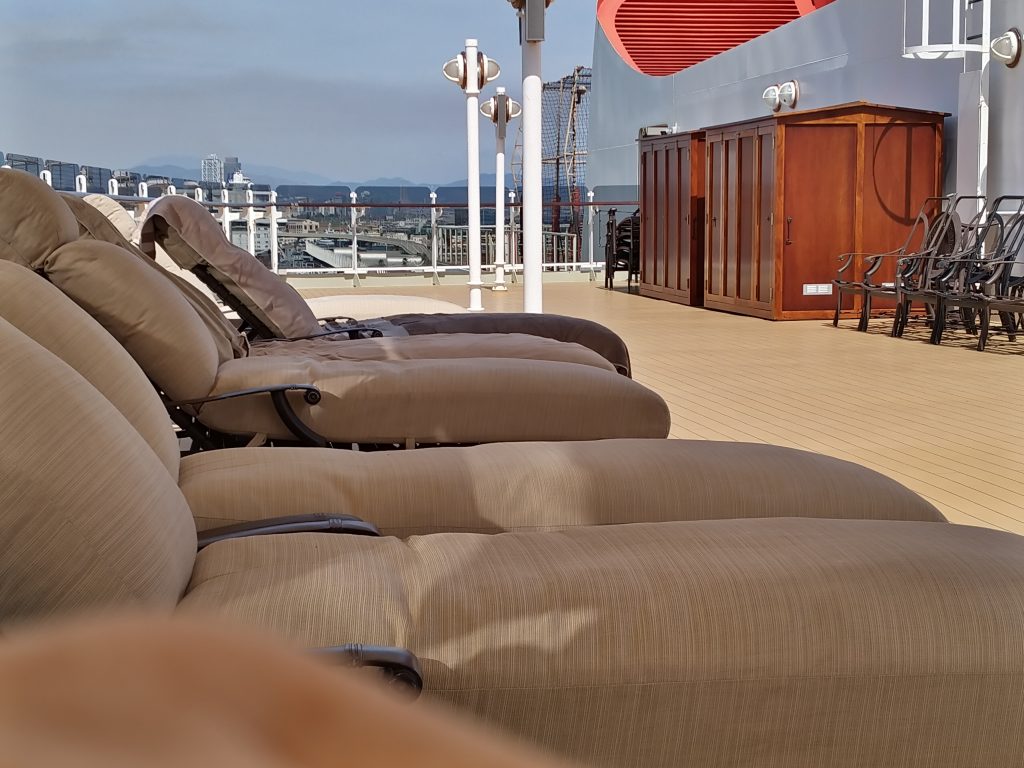 We went back to the stateroom via deck 2 to see if the shop was open as I needed a cap for the sun, mine was still sitting in a drawer a home. Typically it was shut as always when in port, ah well tomorrow morning then!

It was time for dinner, and suitability showered and shaved we headed up to the PG restaurant on deck 11. Dinner was excellent as always, I had a quail starter followed by a spicy Malaysian chicken dish. I asked our waiter if the chef could make it spicy, and boy did he! It was lovely, I like a fiery curry and on board dishes tend to tone down the spice for a lower common denominator, this was perfect. A dessert of chocolate fudge cake rounded the meal off nicely. Jane had a cheesy croquette followed by halibut and then a mountain of a cheese platter.