Tipping it Down in Tromso – Wednesday 23rd March
The Red and Gold Gala dinner was a roaring success for Jane as she looked wonderful in her new frock, and I didn't look too shabby either, if I say so myself. We were looking so good we went in search of a photographer before dinner down on deck two only to be thwarted by the long queues. Not one for queuing for anything we decided to come back after we'd eaten, and try again.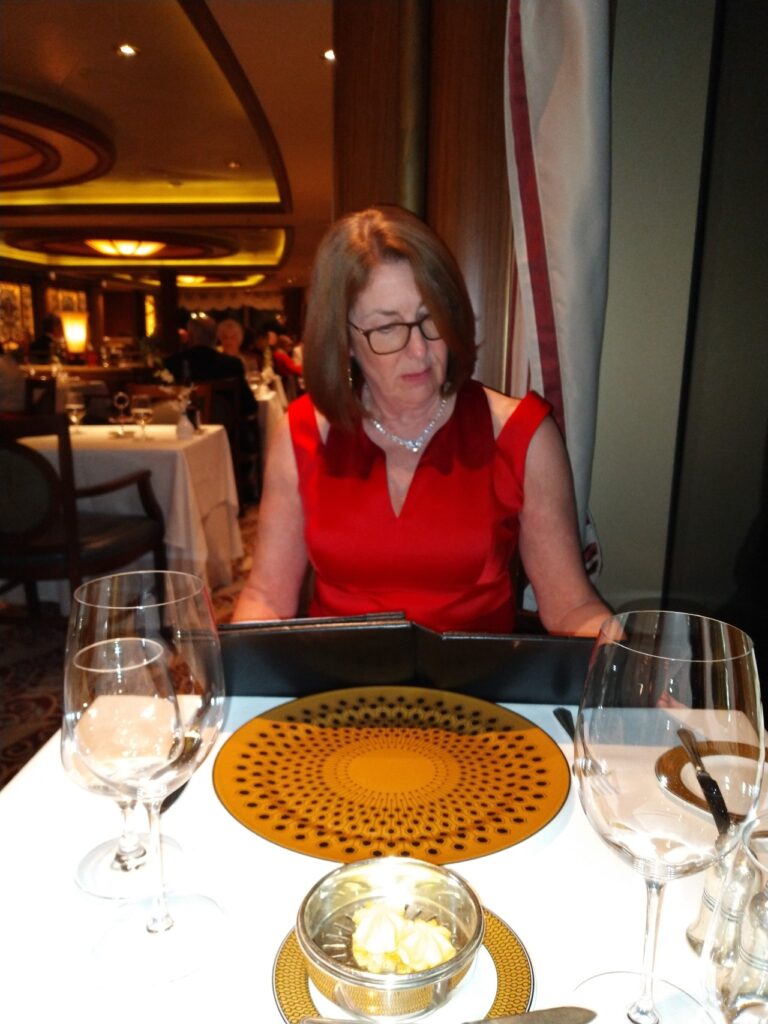 Dinner itself was very good, with Jane ordering Scallops, I nearly went for the wellington, but decided on the Langostine Ravioli from the a la carte menu to make the wine choice easier, an excellent Pouilly Fume. Dessert was a whole load more exciting with Jane having Crepes Suzette and I had Baked Alaska. They were both "flaming" nice. I have one complaint though, surely a "baked" Alaska should have been somewhere near an oven during its construction.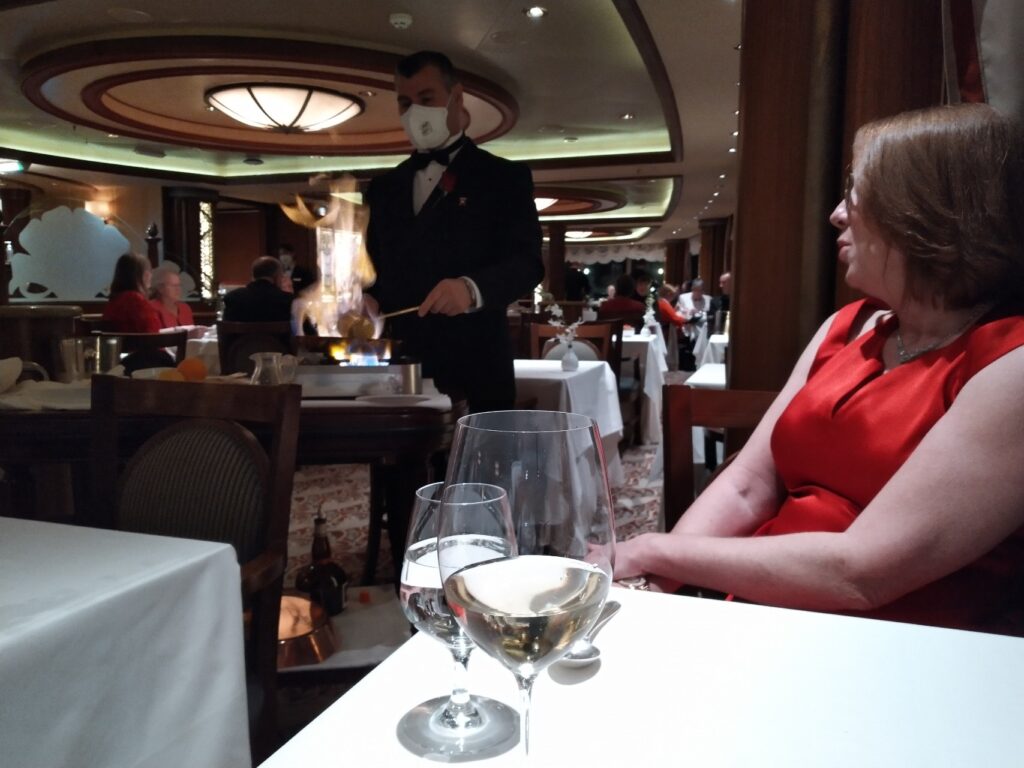 We had no trips planned until our chase the Aurora trip at 19:30 and with it being a port day there were no lectures schedules. The weather was miserable, so there was no chance of getting me on a shuttle bus into Tromso either. So after a hearty breakfast in the PG restaurant we headed down to the Garden Lounge for the early trivia quiz. None of our quizzing pals were around so it was down to just Jane and myself to uphold the honour. Needless to say we outdid ourselves gaining a measly eight points, 8/20. mind you this must have been a very hard quiz as the winning points were only 13/20. I don't think we'll be coming back from this cruise weighed down with prizes.
The rest of the day involved lounging, eating lunch and more lounging before we met up with Mark, Pam, Andy and Sarah for the afternoon trivia. We were back to our normal 13/20 score. for this one.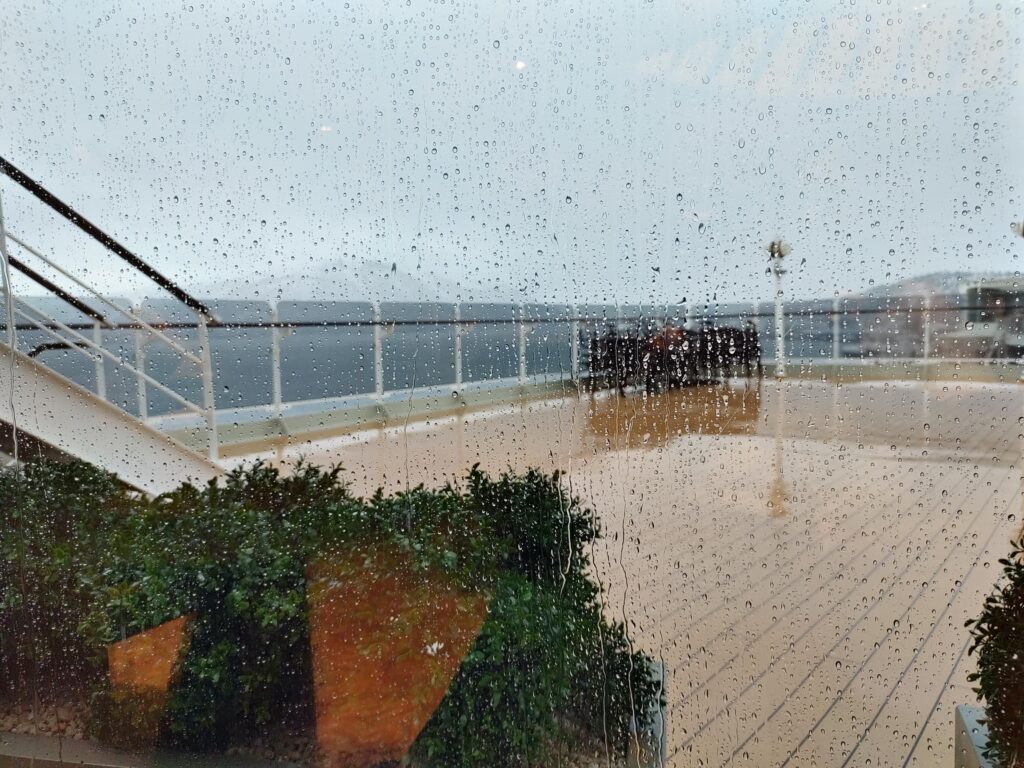 We had decided to eat in the Lido tonight, as our trip departed right on dinner time. I have to say I was not impressed at all, we had pizza from the pizza station and a salad from the salad bar, both were uninspiring with the pizza having a very hard biscuit base and the salad was just a bit meh! We were sat with Andy and Sarah and their meal of roast pork didn't look appetising either. The choices of dessert was also limited. All in all I don't see why people would choose to eat here in preference to the MDR.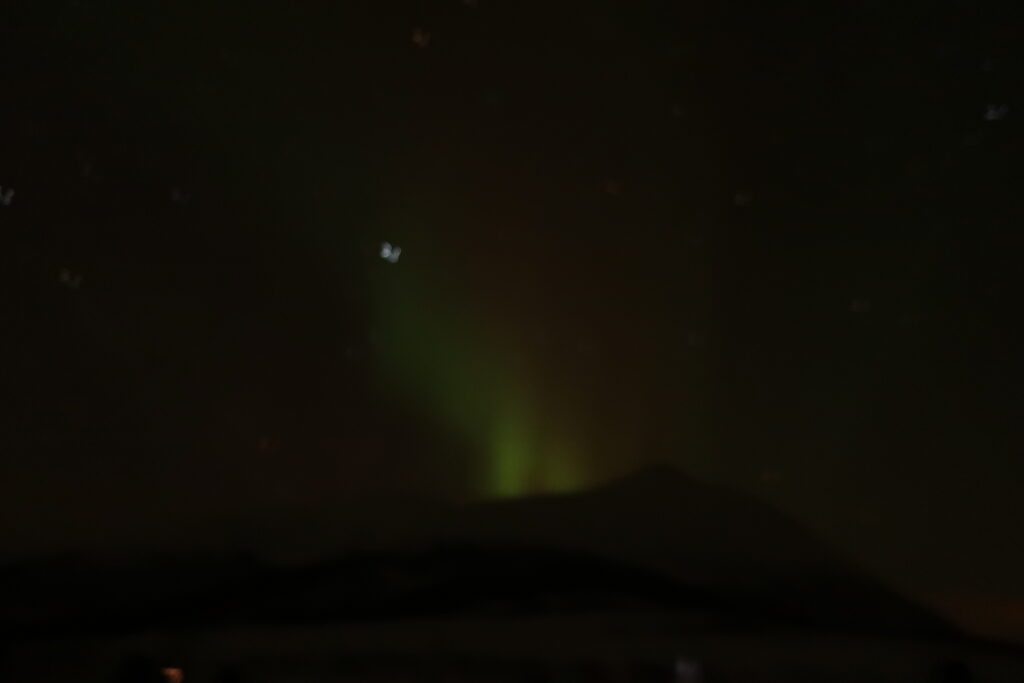 At 19;30 I limped my way down to deck A and the gangplank and waiting coaches, ready to whisk us away in search of the elusive Northern Lights. It was an hour's drive to the car park out beyond the reach of the light pollution of Tromso. Here we would spend the next three hours shivering in the cold looking skywards. Apparently the Aurora was dispersed and everywhere but I couldn't see it and ended up back in the coach to rest my leg. When we were given the nod that it had been spotted and although weak was there. Jane went out with the camera and came back about 30 minutes later with a bunch of photos, some of which might have the Auroa in them. All in all it was a bit underwhelming. The journey back was nice especially as the driver took us on a shortcut under the sea tunnel which enabled us to beat the other coaches back. We waited to disembark and were the last off as Jane had lost an earring and glove some time earlier. Luckily I spotted both and we were off and in the Lido grabbing a tea and nibbles from the midnight supper service.