A Beautiful Day to be Heading North – Saturday 19th March
We ended up getting to dinner a little later than usual last night. We have a table for two in these new post Covid times, which last time out worked quite well as we had a friendly, chatty couple sat next to us. Time will tell how this cruise fares, but it seems promising. Jane ordered "A La Carte" with crab cocktail and lamb provencale, nice but the portions were too large for her. I had the tempura prawns from the "A La Carte" and pepper steak from the main menu, my portions were just fine.

I had a cracking sleep, which has just highlighted how much we need to change the mattress in the spare room that I've destroyed in the last 2 months. I had a weird moment in the middle of the night with a hand groping across my face and chest, but it was only Jane trying to find her water now that she's on the "wrong side of the bed". I can't sleep on my usual side because of my hip.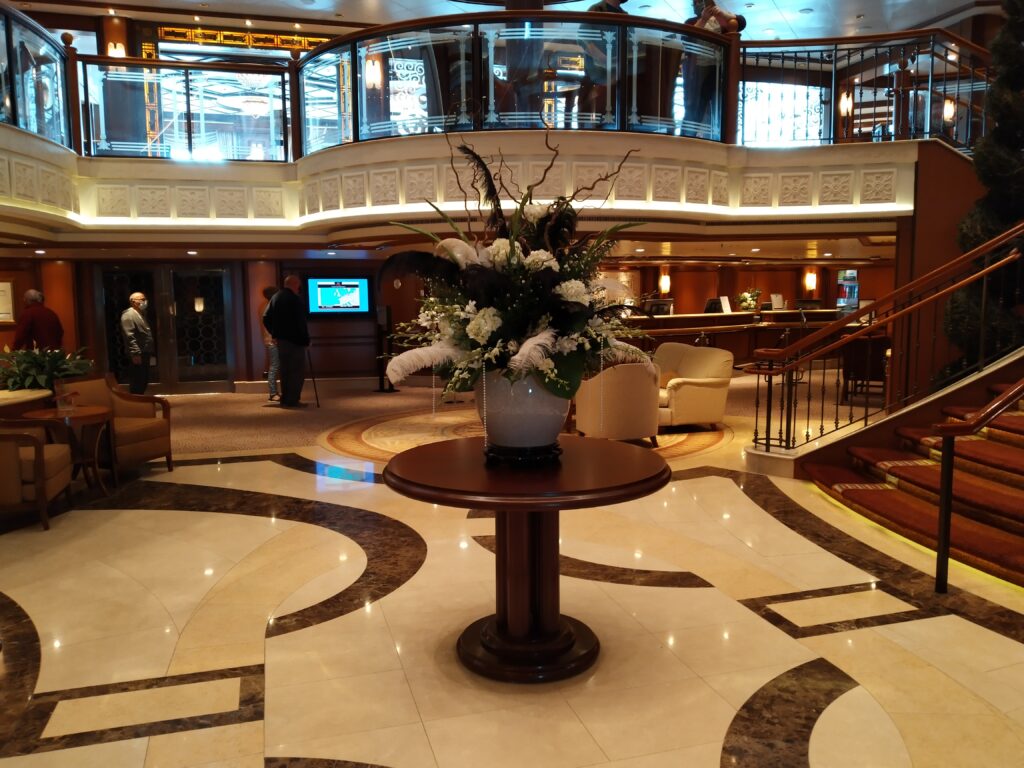 It's been a glorious day today with clear skies and bright sunshine, looks can be deceptive as it's bloody freezing once you get outside , much to Jane's dismay.

We stayed in the room to watch the Tromso port presentation on the TV rather than going down to the theatre, but once that was over we did head down to deck three to watch John Maclean's lecture on Aurora. This was a particularly well attended one for obvious reasons. It was difficult for late comers to find a seat as Cunard had rolled back their open seating with every third seat having a don't sit here sign, much like our August cruise. Jane came to this one but went back to the room for Stuart Musgrave's "Shetland Bus" lecture, which was her loss as this was much more interesting.

After this I went back to the room to collect her for lunch. It's a pain being so immobile as I'm dependent on the lifts to get up the four floors to the Grills restaurant where I would never have before. The lifts are restricted to to 4 guests again so we ended up letting 4 lifts go because they were full, in the end I got in with a three and poor Jane had to puff her way up flour fours.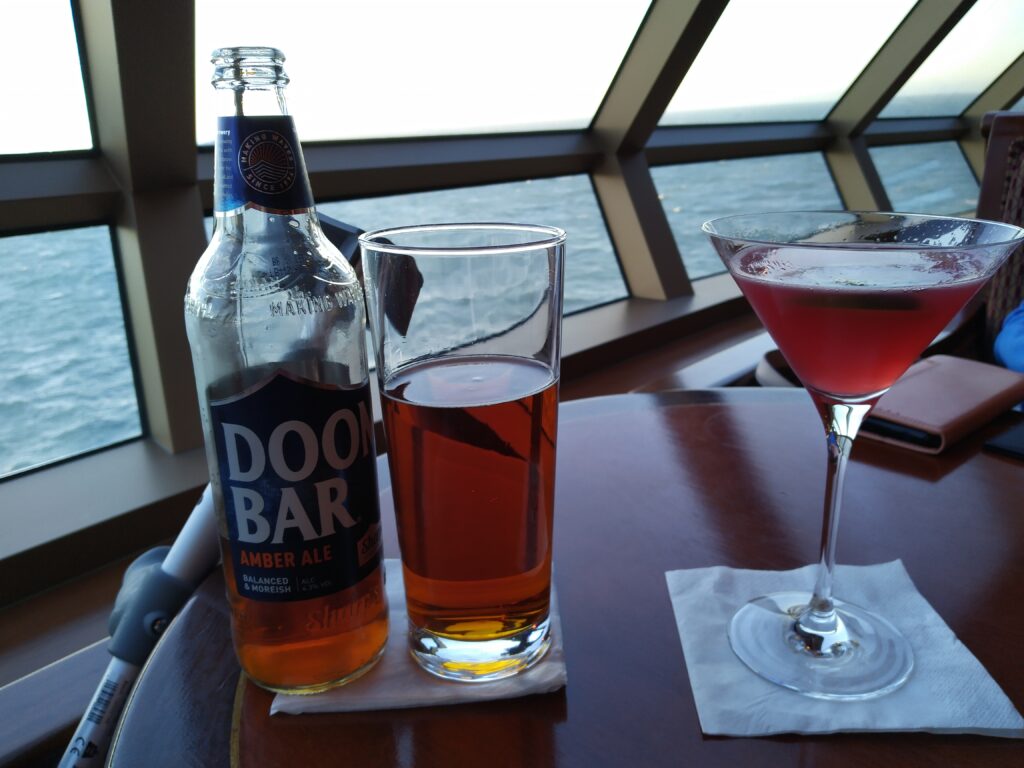 After lunch there was a well attended meet-up of Cruise Critic forum members which was nice to put faces to the cryptic user names. We'd taken over the area normally given Hobby corner, they were relegated to the LGBT area on the other side of the Commodore Club and we got a mild telling off by the steward.

After a posh coffee in the Grills lounge we went to the trivia quiz in the Garden room. We were rubbish getting 12/20, there were some questions in there that were quizzers questions so we didn't have much chance. the winners were the only ones to get more than 15/20. After that it was Commodore O'clock where I was back on the Doombar and Jane had a Pometini, a Margarita with Pomegranate rather than Lime juice. We had Canapes for the second night running, maybe this a welcome return to an old Cunard tradition.