In the port of Valencia – Day 7
I hopped out of bed to catch the sunset this morning but alas we are on the wrong side for it today. We are in Valencia today, we were here in November where we went on a tour. We didn't plan on going on a tour but we'd decide we fancied getting the shuttle ashore at breakfast. It turns out there is a world triathlon event in Valencia today and the shuttle has a transfer time of 40 mins so that put paid to any thought of going for lunch ashore. Instead it was decided that we'd do the laundry instead, oh joy! So we wen't to the laundrette where there were three free machines. There aren't any of the soap pods in our laundry room, but there is loose powder and a spoon to dispense it. Machine loaded and switched on, we headed down to the promenade deck to sit in a steamer chair for the 40 mins the cycle takes. Washing duly transferred to the dryer we then had another 30 mins wait for them to dry.
Once that was done the Grills terrace and a cappuccino was calling my name. We went to lie in the sun for a hour before lunch, I didn't manage an hour as it was too hot for me. I ended up in the Grills lounge to get some respite and wait for lunch.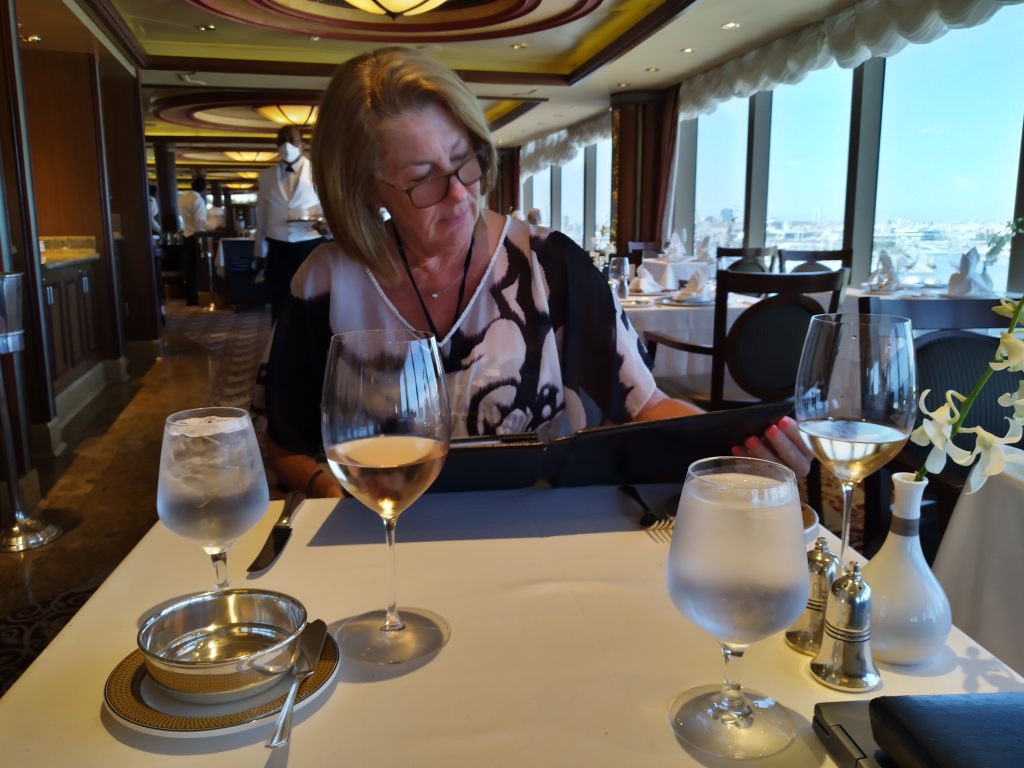 I had the beef carpacchio as a starter followed by beef bourguignon which was a very large portion, so much so I skipped pudding. Jane had quesadillas which were very nice. She also cracked one of the bottles of Rose that we had bought in Cannes. She's decided to drink that across a couple of lunches which means we need to buy another bottle to top up our Commodore's
wine package.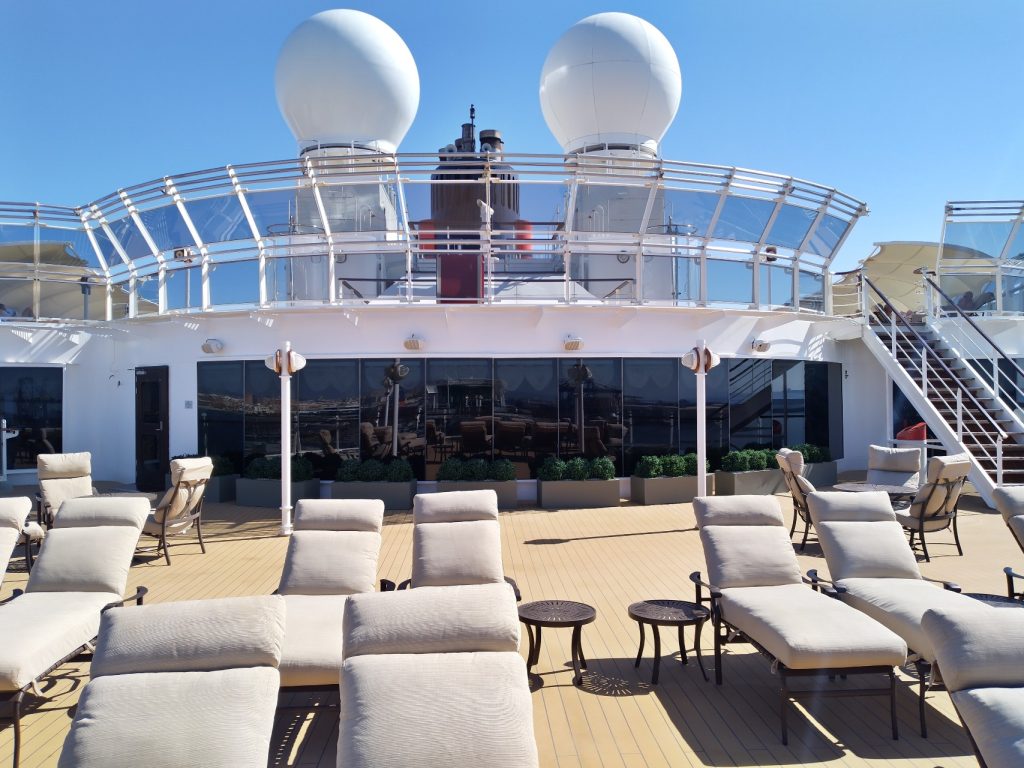 After lunch we went up to the upper terrace to grab a bed, if they hadn't all been reserved, in the shade. There were a few available, but most had assorted tat on them reserving them for the chancers that had disappeared off for lunch. It was a lazy afternoon lying in the shade, reading my book, listening to Spotify until Jane decided she wanted it, then watching the Dutch GP on my phone. The ice cream fairies arrived at promptly 15:00 with a bowl of mint choc chip and vanilla ice creams swiftly followed by the tea trolley who furnished us with a nice cuppa.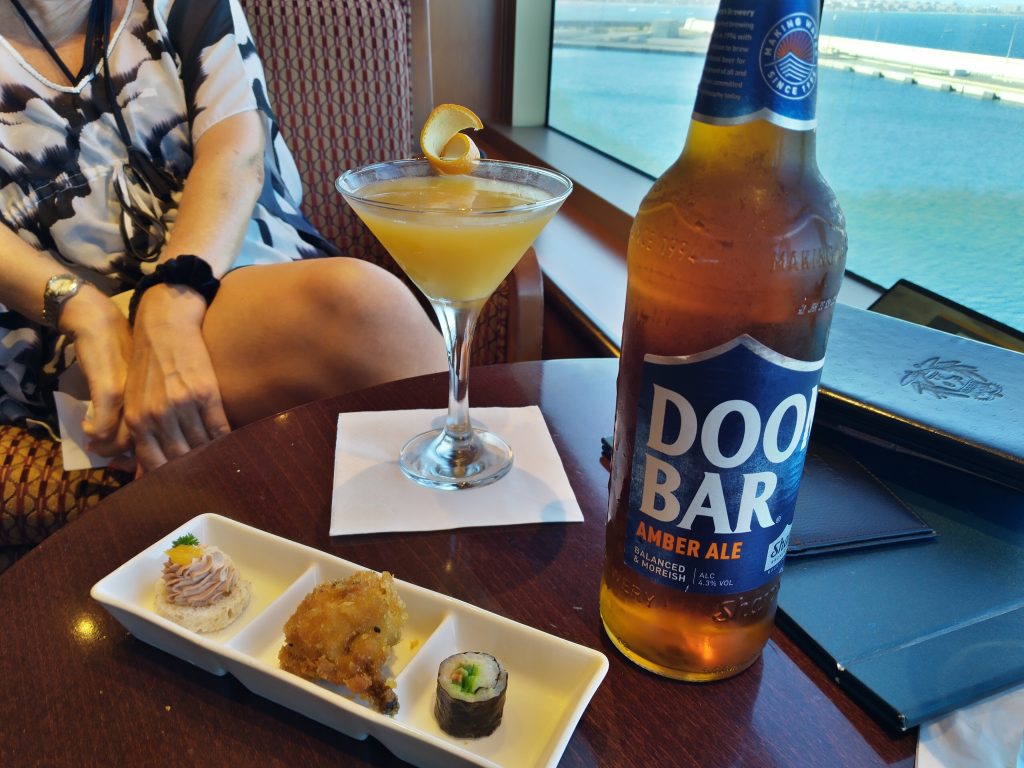 All of a sudden it was 5 pm and the Commodore club was calling, so we headed there via the stateroom to bring the washing in from the balcony where it was airing. Jane started off with a dark & stormy which started off not very nice but with a bit of a mix was much better. Doombar for me today. The second cocktail of the day was a honeysuckle daiquiri.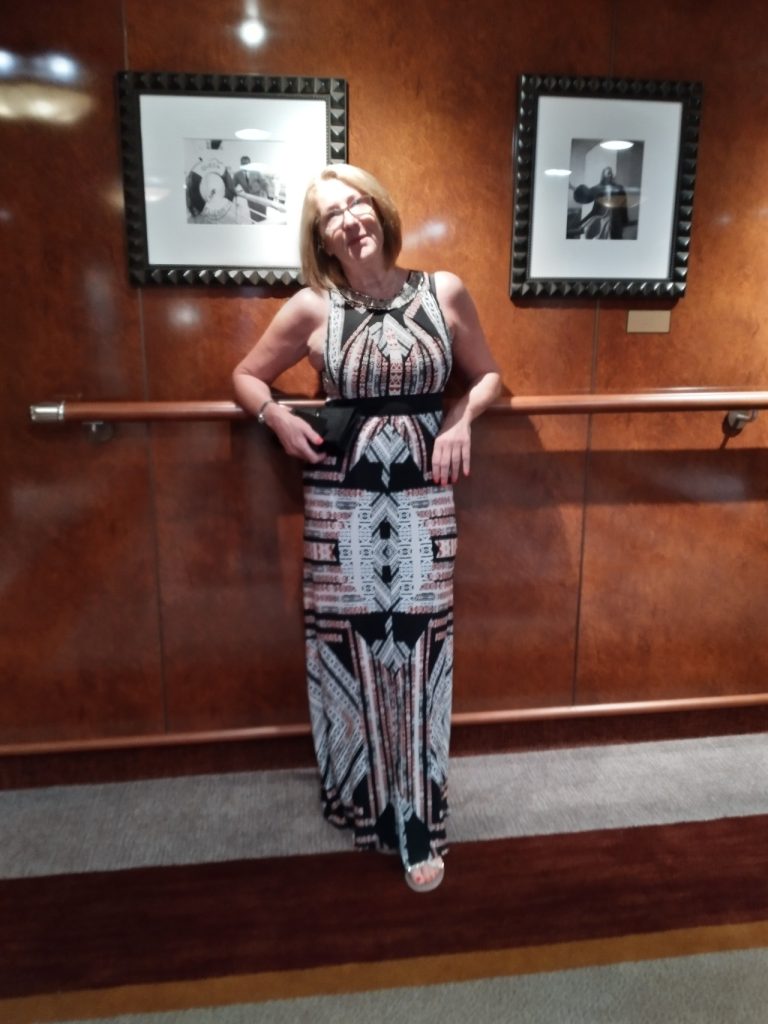 We were a little late getting to dinner and arrived up in the PG restaurant about 8pm. It wasn't any special dinner tonight and the menu was a little uninspiring, Jane as always opted for lamb, Dorset loin this time and enjoyed that though she found it to be a little "firm" not tough but it took a little more chewing than expected. I opted for roast turkey, Xmas dinner is my favourite meal of the year, and I really enjoyed that. My starter was smoked trout and dessert a blackcurrant cheesecake. After dinner we went back into the Grills lounge for a postprandial drink where Jane had a Brandy Alexander and I had a cappuccino.