I slept a bit better overnight, as it was our second night on board. The room is very quiet but we do have an annoying squeak, it's got an irregular interval and seems to be outside the room somewhere as I can't pin it down. Jane joined me for breakfast in the PG dining room, so we were a little later getting there. I tried the devilled kidneys on sourdough toast, nice. After breakfast we went to relax in the sun while I waited for my first lecture of the day. We were just off the North Spanish coast near Vigo and the weather is warming up nicely.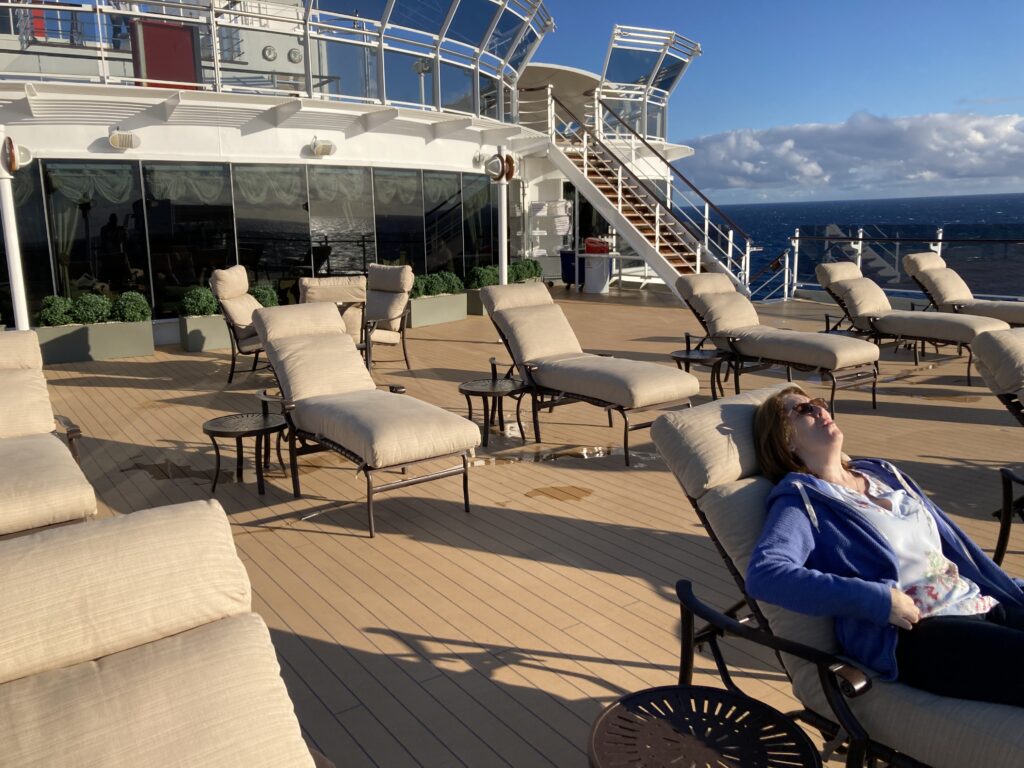 Poor Dr Sheona Urquhart, she'd only just started her SETI presentation when there was a random crew announcement that cut her off mid flow while the Captain told the crew they needed to fill in an environmental questionnaire – I'm not entirely sure this was meant for public broadcast, but it killed the slideshow and took quite a while to get her back on line.
This was followed by Dave Mallinders Dean Martin talk where I was joined by Jane.
After the lectures we decided on a walk around the promenade deck for our daily constitutional, it was a more pleasant walk than yesterday's, the sun is out and it's nice and warm. We had an escort from the US warship Robert E Peary, I think that's what the Captain said it was, which slowly passed us on the port side.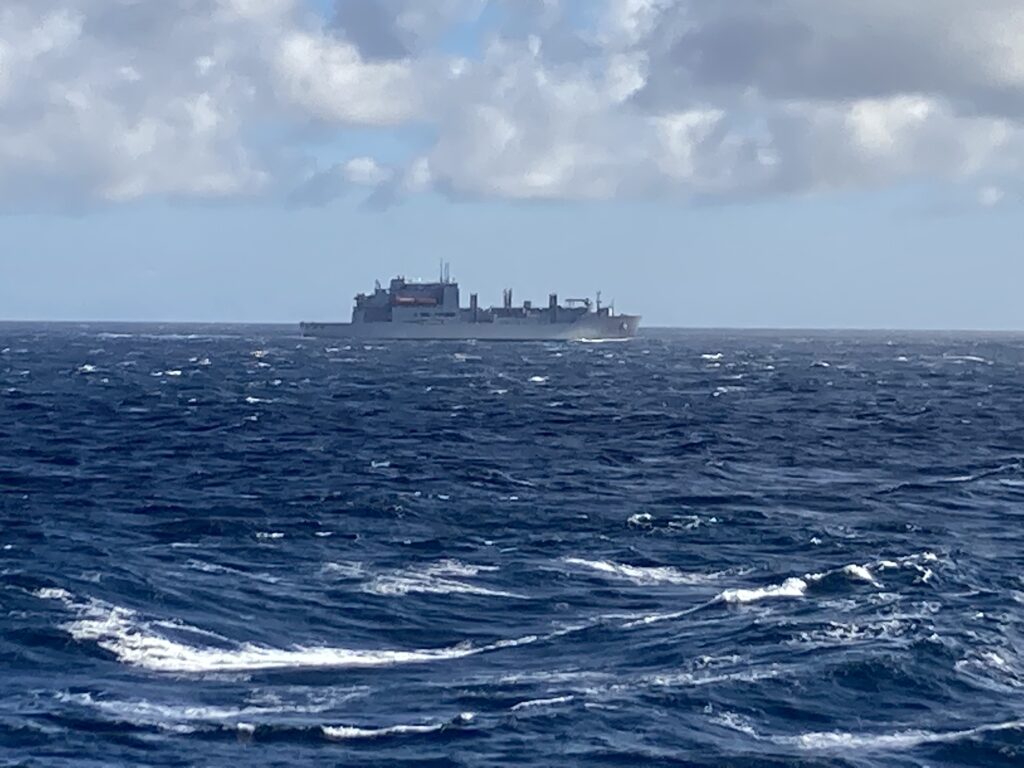 After that excitement we had worked up a appetite so headed up to deck 11 and lunch in PG. I had quiche, spaghetti bolognaise and tarte tatin. Jane was having a bit of a quandary, whether to go to the wine tasting at 14:00 or to save herself for cocktails at Commodore o'clock, we decided to lie in the sun on the loungers until she could make up her mind. Surprisingly the sun won over the free wine tasting.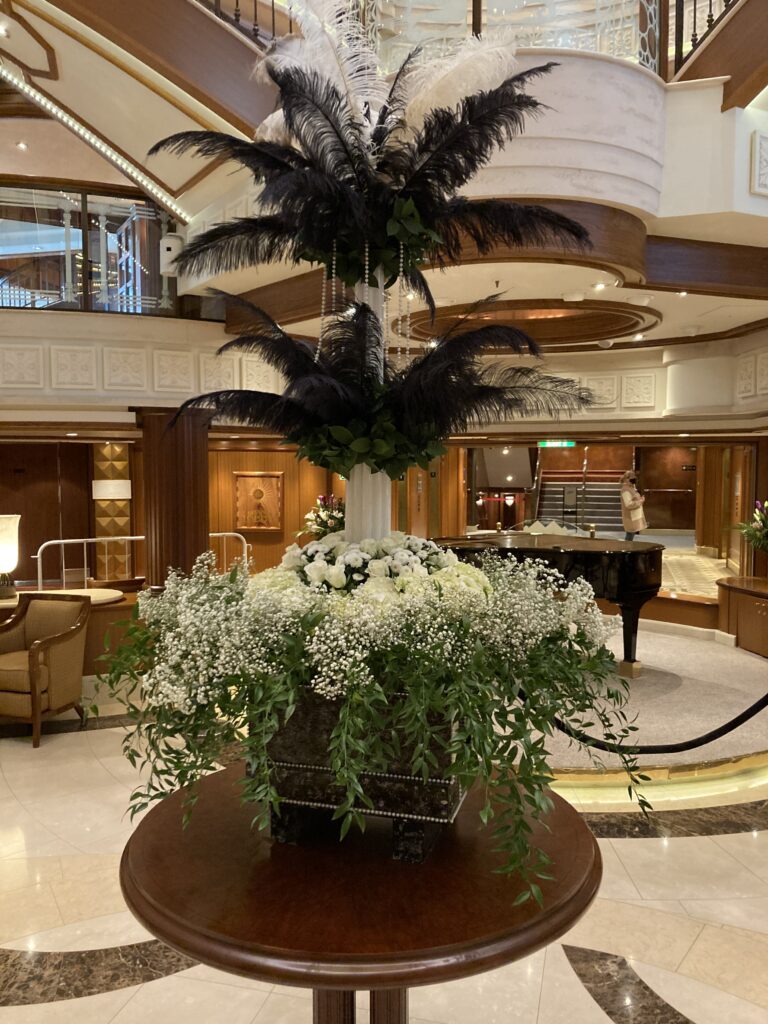 After an ice cream on the loungers and a cappuccino in the Grills lounge we headed downstairs to the Garden Room for the 16:15 Trivia quiz. 16/20 again, but slightly better as the winners won with 18.
To celebrate our near win we headed up to deck 10 for Commodore O'clock where Jane had an Ichio Martini and I carried on my gluten-free experiment with Old Speckled Hen.
I had a relaxing soak in the bath before dinner, which was just a standard night. Jane was very excited though as she'd ordered the Rack of Lamb from the A La Carte menu. My starter of Jumbo Tempura Prawns followed by the lamb didn't disappoint.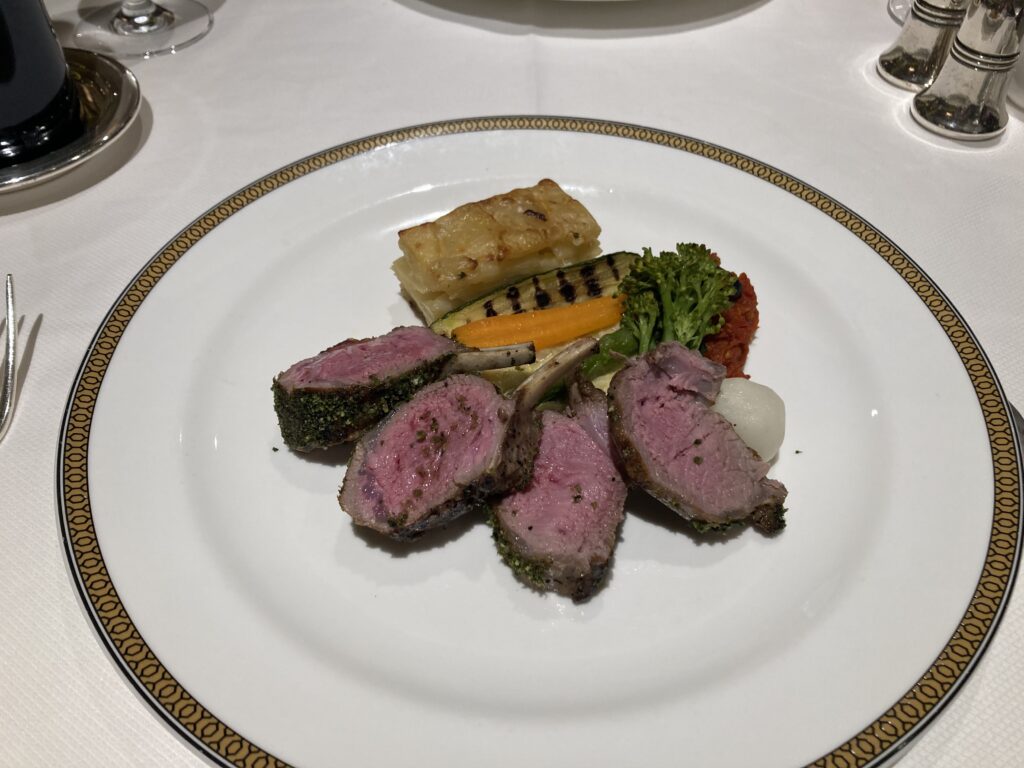 Then it was an early night for our arrival in Lisbon early tomorrow morning and our walking tour.